The database window is the control center and start screen of ChessBase. From here you install, access and manage your databases.
In the database window is the main window of ChessBase which always appears when you start the program. Here you can open, browse and generally look after databases. On the left you find the "Folder" window.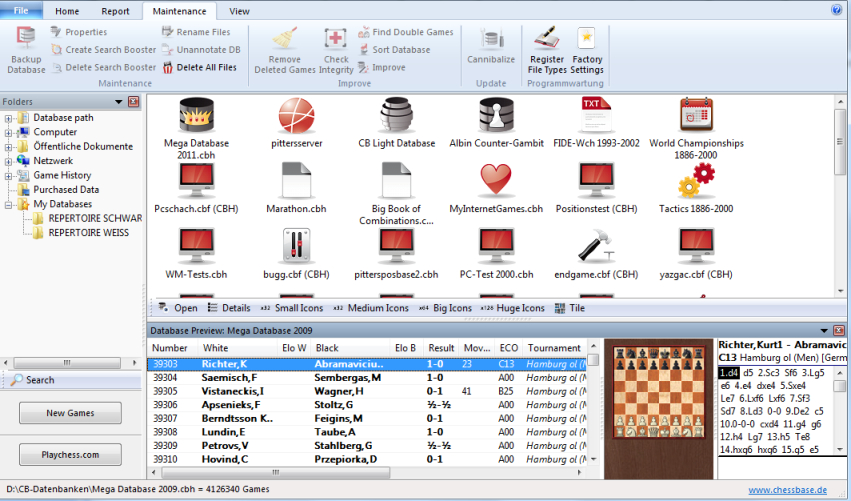 You can click on the plus symbol to reveal the contents of a drive or directory. If you click on the drive or directory itself the databases it contains are shown in the window on the right. If you click Details in the View (or in the right-click) menu the database symbols are replaced with a full filename and path display.
The database window has a window pane called Database Preview. If you click once on a database symbol, this shows a games list of the database. You can switch this of in the Window menu or toggle it with Ctrl-Alt-L.
Double-click a database symbol to list out its contents in a full list window.
To find your database window, hit Alt-Tab to switch between the running Windows applications and select the ChessBase Icon. Or click on the ChessBase button in the task bar at the bottom on the screen:
My databases is a special place in the folder window, containing links to your favorite databases and folders. It is your "home" database window. Ctrl-F12 always takes you to the My databases window.

In the folder window, you also find an entry Game History containing the daily work databases.
Large database symbols for high resolutions
This can be selected using the buttons underneath the database explorer.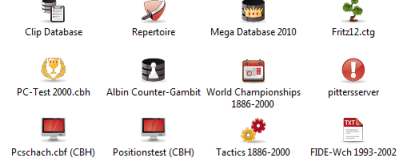 It is also possible to view a DVD's contents with a single click.