Naturally the games list is the most frequently used window type in ChessBase. You use it to browse a database, a search result, contents of an openings key, game of a player and so on. Please try to understand how to configure a games list, it will considerably increase the usability of the program for you. Other lists (players, tournaments) work the same.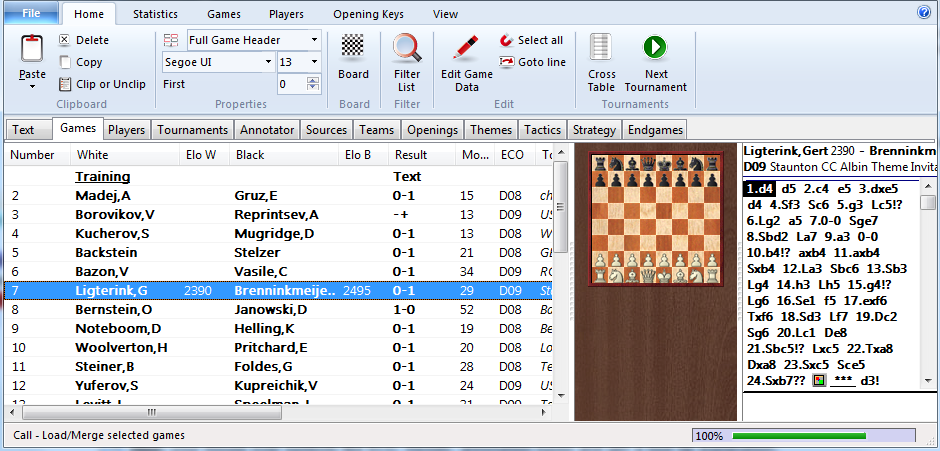 Use the separation marks between the column headers to resize columns. Drag & Drop columns to a new place. The program will remember any changes in the configuration of the games list.
Obvious but important: You sort the list by clicking on the column title.
Right-click on the column title to get a menu for toggling single columns: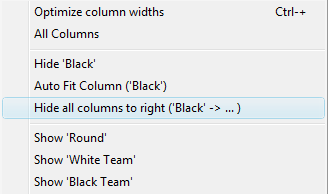 Hint: your mouse over symbols like ECO, medals, annotation types and get a tool tip explanation.

Most important in the games list is the right-click menu. It offers standard column layouts and a lot of functions on selected games.
You can select games with Ctrl-click or Shift-cursor keys. Use Ctrl-A to select all elements of a list.
At the Top of each game list, you find the Ribbons:

Click Filter List to filter the games list with a search mask Click Copy to prepare the selected games for copying to another database. Click Edit to enter game data for one or more games. If you select more than one game of the same player, the player name is offered for editing. Clip copies the selected games to the clip database. Delete marks the selected games for deletion.