In ChessBase you can copy games freely from one place to another. In the games list you can do this with the right-click menu "Edit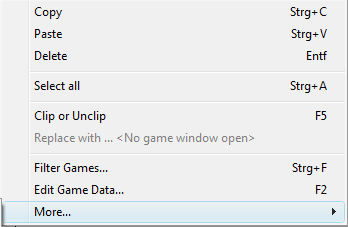 Copy
Remembers the selected games which can then be copied (pasted) to another list or database. You can also mark the games and press Ctrl-C.

Paste
After you have "copied" games you can use "paste" to insert them in the current database or list. You can also press Ctrl-V.

Delete
Marks the selected games as deleted (grey and struck out). You can do the same with the Delete key. Repeating will "undelete" the games. There is a special function to physically delete the games.

Select all
Selects all the games in the current list (Ctrl-A does it too). This is often used in connection with "Copy" to copy all the games in the list.

Copy or Unclip
The selected games are put into the Clip database. You can also press F5.

Replace with ...
If a game is loaded in a board window, you can replace the selected game in the database physically with this loaded game.

Filter games
This calls up the search mask (as does Ctrl-F). In the search result list you can keep adding criteria to narrow down the search until enough games are filtered out to make the list managable.

Edit game data
Allows you to edit the game data (players names, tournament, etc.) of the selected game. If more than one game is highlighed, ChessBase will check if one player is present in all the games. If this is the case you can edit the name and Elo rating of that player.

More...
Several special editing functions, e.g. for setting a common source or tournament for the selected games.