List window: Click Openings tab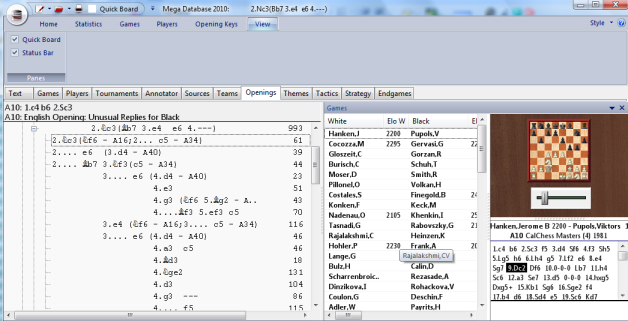 Openings keys are indexes to games based on the opening variations – you have instant access to the games through the openings moves or variation.
The openings keys have two main properties:
| | |
| --- | --- |
| • | The games in a database are automatically classified by the program into the correct openings keys and subkeys. |
| | |
| --- | --- |
| • | An openings key can be expanded. It is therefore easy to modify an existing key and make it include the most detailed variations of your repertoire. |
ChessBase databases come with presorted openings keys. But the program will also install a big or small openings key in any database and sort all games into it.
Functions in the openings key window
The openings key is displayed in a special key window, which works very similarly to the normal games list window. On the right you can see the number of games. Use the cursor keys to navigate to the openings hierarchy, like you do in the folder pane of the Windows File Explorer. Cursor right openes a sub tree, cursor left closes it. If a key contains games, they will be shown automatically in the games list below the keys.
Note that you can rearrange the game window in relation to the keys.