Board Design ( right-click the board)
The "Board design" is used to change the appearance of the board.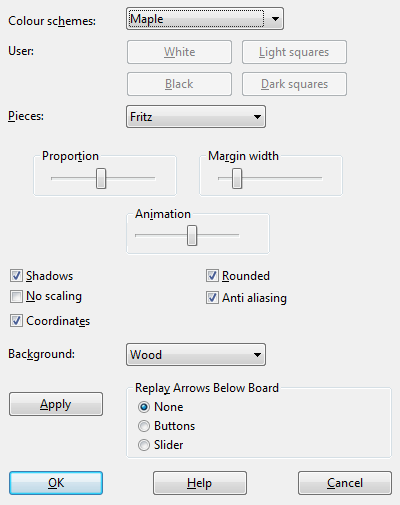 You can choose different materials (wood, marble, etc.) and colour schemes for the light and dark squares, and also for the background. You can have co-ordinates around the board and replay control buttons below it. There are also a number of different pieces styles. Here are the specifics:

Color schemes selects the colour and texture of the dark and light squares of the chessboard. If you want to mix your own colours click "Plain color" and select the colours you want for the squares and pieces. You can also give a different material by clicking "User BMP" in the colour schemes.

Pieces: There are at least three piece sets to choose from. "USCF" is a set in the style of American chess publications, and "Oldstyle" a nostalgic set that was used in books earlier in this century.

Proportion regulates the relative size of the pieces with respect to the board.

Margin width determines how wide the sides of the board should be.

Animation determines how fast the pieces glide over the board.

Shadows gives the pieces a shadow, so they appear to be slightly raised above the board.

Rounded makes the pieces appear slightly rounded.

No scaling switches to fonts with fixed sizes. This switches off background textures and other effects.

Background is used to change the area surrounding the board. Here too you can use your own "User BMP".

Coordinates switches on the board coordinate 1–8 and a–h.

Replay arrows below board puts recorder-style replay and forward buttons below the board.

Functions: Load previous game in game history; jump to beginning of game; take back move; cancel move (take back and overwrite with next move entry); one move forward; jump to end of game; load next game from game history.