ChessBase can send E-Mails with positions, games or databases. This needs a Default E-Mail Client (like Outlook) installed on your system. If that is the case, sending messages from ChessBase is simple.

Database window: Menu File – E-Mail Selected Database

This dispatches the selected database. You can also right-click the database and click E-Mail Selected Database in the menu.

List window: Select games, right-click and use Output – E-Mail Selected Games
Dispatches the selected games.
In both cases the mail client pops up and allows you to type in the recipient.

Board window: Menu File – Send – Send game/position

Dispatches the current game or position. The following dialog appears: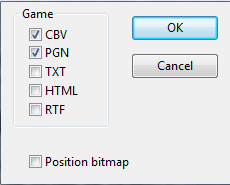 You can specify in what format the message is sent. If you include CBV or PGN ChessBase will create the required databases on the fly and attach them to the message. It will also send the game in plain text or RTF. If diagram positions are marked in the game, a bitmap diagram will be added if you wish.