In the Opening Reference the number of common variation lines can be altered by using the + and – buttons.

Clicking the button next to the list opens the Parameters tor Reference Search dialog.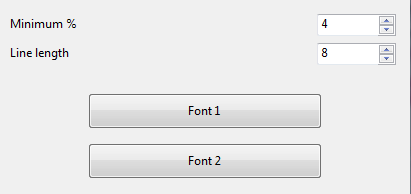 These values have the following meaning:
The smaller Minimum% is, the more variations are displayed. (The buttons + and – alter this value).
The higher the value for the variation length is, the longer the displayed lines are. High values for this setting mean a lot of calculation is necessary and the processing will take longer.
Font 1 + Font 2 -> Select a Font for the display.