The new server Engine-Cloud.com offers a groundbreaking innovation for analysis with chess engines. It is possible to use the Internet to access chess engines that are running on other computers and use them for your own analysis. Engine Cloud is ideal for people who have several computers and would like to combine them for detailed analysis. It is also possible to run an engine on your computer and offer it to other users in the Cloud.
| | |
| --- | --- |
| • | Increase the quality of your analysis by using different chess engines on different computers, combining the results in a single board window. That is just as comfortable as if you were running the engines locally on your own computer. |
•

If you own several computers you can use them with Engine Cloud to create a single analysis. When you do this you have all the ressources of the available hardware and software at your fingertips.

It is possible to remotely access an office computer and use its chess engines in the Interface as if they were stored on your own computer.

| | |
| --- | --- |
| • | This system offers many advantages to tournament players. They can travel to a tournament with a relatively weak notebook. In between rounds they can use Engine Cloud to analyse positions with the more powerful computers that they have at home. |
| | |
| --- | --- |
| • | Chess engines are extreme applications that demand a computer's complete power. This means that a lot of energy is needed. If you work with a notebook a lot you can use the computing power of other computers to prolong the life of your battery and still use the maximum power for analysis. Another advantage is that the fan doesn't have to be used so much, so the computer runs more quietly during the analysis. |
| | |
| --- | --- |
| • | Powerful computers cost a lot of money. By using Engine Cloud you can pay a small fee to use top engines running on extremely powerful hardware. You can decide for yourself how often you want to use these ressources, so you don't have to invest a lot of money in expensive hardware to make first class analyses. |
| | |
| --- | --- |
| • | For complex analyses you can access several machines at the same time as kibitzers, each running with full power. |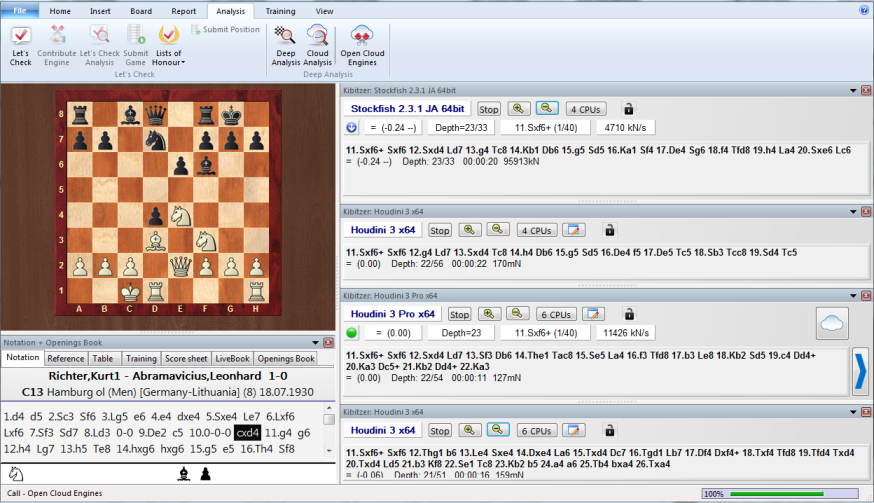 | | |
| --- | --- |
| • | If you own fast hardware and top engines you can use Engine Cloud to offer your ressources to other users for a small fee. |
| | |
| --- | --- |
| • | You can use Cloud Engines to do anything that you would use local machines for, such as analysis, engine matches, or for games in the the Engine Room at Playchess.com. |