ChessBase makes it easy for the user to create a repertoire database. This is a collection of annotated games or variations that are used as the basis of a personal opening repertoire. The systematic upkeep of your own repertoire is an essential part of your preparation.
First you must create a repertoire database manually. To do this you must have a database that only contains games and variations that are part of your repertoire. To define a database as a repertoire database right click on a database and select Properties. Then tick the box Repertoire Database.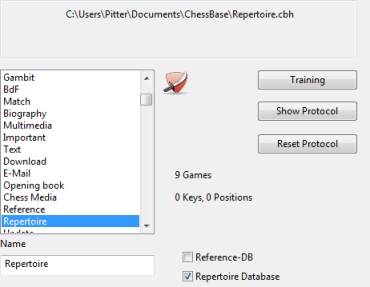 The program can also support users who do not yet have their own repertoire database.
Let us assume that you are replaying a game that is significant for your repertoire.
Right click anywhere in the board window and select Add to repertoire.
You can also use the ribbon Report – Add to repertoire.

If no repertoire database has been defined yet the program will offer to create a new repertoire database.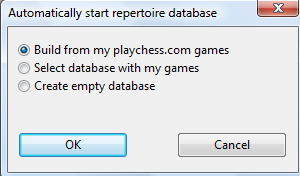 You can choose between the options:
Build from my Playchess.com games: This creates a database using your games on the server. In the following dialog you can choose the player's name.
Select database with my games: This is when you already have games stored in a separate database.
Create empty database: This puts the game into a new database, which you can later add to.
There are differences to earlier versions of the program. The user can add games to the repertoire database directly from the board window.

Clicking on the small arrow next to the Repertoire database button opens the repertoire database.
Mark move blue sets this search position for the repertoire report. In earlier program versions all the alternate variations were also added, which was sometimes imprecise.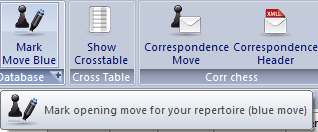 If you add a game to the repertoire database by this method the position is shown that is used as search criterion for the repertoire functions.